Hey guys! Today's topic boils down to how important is Google Ads for Dropshipping Adertising, What value can one really gain from Google Ads, how it works and some comparisons too.
As we all know that, the importance of Google in our everyday lives cannot be overemphasized, Google has been prominent in it's operation virtually in almost every sector of the life and the world. Advertising with Google is one tool every business personnel may utilize to get their customers and as well attain their expected target sale.
Before we dive in further, let's briefly clarify how Google Ads works, then we can try to see come comparisons with Facebook Ads and even glance further if one is better than the other.
Google Ads or Google Advertising
Is it Better than Facebook Advertising?
Google Adertising gains it name in 2018 after it has changed from Google Adwords (the name it was called before). Google Advertising is a great and vital tool of Google for generating part of their revenues.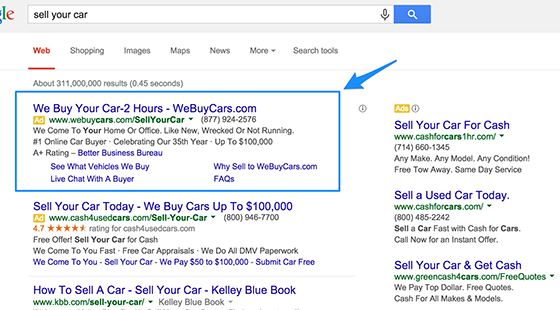 Google ads in square box
It's often rampant on how most business owners, eCommerce and other brands rush for Facebook advertising, but sincerley speaking, Google ads gives out better results.
For example, Google is the most visited website in the world, Google gets more visits more than Facebook, also the vast way Google ads are spawn over thousands of websites is another factor to pove that Google has more edge than Facebook.
Talking about Facebook Advertising, yea, there's that tendency of targeting audiences or customers, but sincerely speaking, most search of products are made more on Google than on Facebook, although, there are some features of Facebook which handles effective advertising, but Google has got most popularity and tendencies of conversion than Facebook. The Google ads as factor for faster engagments with customers.
Below are some factors to support these assertions.
Google Advertising has impressive stats in terms of performance:
Google Advertisements are 50 per cent higher than organic traffic converters.
Google Show Advertisements are used by 90% of Internet users (explained below).
Seventy per cent of smartphone users explicitly call a company from a Google Ad.
Before an order, 65 per cent of online shoppers click on advertisements.
With Google Advertising, most corporations see a 200 per cent return on investment, doubling their original budget.
Google Ads, How does it work?
Google ads unlike other ads, has some unique features which makes it different from other ads. The major system by which Google charges it's users on ads is usually the Pay Per Click (PPC) method, the process by which payment is made according to the amount of clicks attained per ads.
The major way by which organizations and business owners operates with Google Advertisements or purchase trending products is mostly by searching the most prominent search terms on google for example: nose covers, and there are tons of ads by Google from different brands or companies who have placed ads on that search term via Google ads.
The main issue with Google ads is that there are lots of competition regarding products especially products or keywords that seems really high in traffic. So most techniques used in combating these processes is primary via bidding system ushered by Google, so the AdRank operates in highest bidding scheme which gains space than other ads.
How are you improving your AdRank, then? It is primarily based on a bidding scheme, with advertisers setting the highest bid they are prepared to pay on the ad. You've also got three ideas on how to bid:
Cost per Click (CPC)-how much each click on your ad will pay you.
Cost per mile (CPM)-how much you're going to pay for every 1,000 impressions or times people see your ad.
Cost per Engagement (CPE)-how much would you pay for your ad-based predetermined operation, i.e., completing a transaction?
Looking at the above metrics, we could observe that getting to the top spot is not an easy process. The above system is what the AdRank, the Ad analytic system used by Google to process your ads.
So viewing this, the AdRank takes into consideration and calculation, the importance, popularity and strength of your ads and charges you by thus. This is actually how the Google ads works. And these is what Google actually referred to as Quality Ratings.
The Ratings are calcuated via the click-through rate of the ad and the link with the keywords, landing page qualities, rate of appearance of your products ads in Google search engine results.
Now that we've briefly known how Google ads works, let's view the other types of Google ads
Apart from the Google ads which shows on search results pages, there are couple of some other Google ads which appears on other pages of Google Network known as the GDN (Google display Network), examples: Youtube, Google Playstore, gmail etc.
There are basically 4 types of Google Ads
Search Ads-ads on top of the search results pages for Google
Display Ads-image-based advertisements that appear on GDN pages
Shopping Ads-ads designed for ecommerce, with product photos and prices, displayed within the GDN
Video Ads-YouTube ads (between 6 and 15 seconds)
SETTING UP YOUR OWN GOOGLE ADS
Since we began providing $100 in Google Ad credit when you sign up with Spocket for an annual contract and spend $25 on Google Advertising, we have had a few questions about how to do it:
First, to get started, you need a Google account. They are free to make, and whether you can use Gmail, Twitter, or some other Google app, you can create them.
Go to the Google Advertising Home page once you're enrolled, and press Start Now. This takes you straight to the website for the Latest Initiative. Google Advertising has a fantastic onboarding process, step-by-step, because they clarify what to do, even though you're a novice, then let you do it at your speed.
Choosing your primary focus is your first judgment. E-commerce stores may want revenue, but you may be more concerned with traffic or brand recognition if you have just opened.
Next, you pick the form of the campaign: Browse, Show, Shopping, Film, or a Smart campaign that is less active. Note that until after your Google Ads account is done, shopping and video are unavailable.
Your next question will ask you to describe better your priorities based on which campaign style you chose. We have selected Search for this example, and our next question is about which metric we would like to use to assess success.
Tap on Proceed to go to the producer of the initiative.
From here, you pick your Google Ad info. You have a myriad of options for customization, including:
keywords
which sites ads are displayed
Geotargeting venues
Audiences (based on Google data, by demographics, interests, etc.)
languages
daily budget
bid type
ad extensions
Unfortunately, these criteria are not addressed correctly by anyone; it depends on your company and precise objectives. If you want to navigate these alternatives better and hear more explanations of what they do, in this more in-depth tutorial, Marco describes it.
Final Conclusion
Dropshipping as a lifestyle is sometimes challenging and at times requires extra efforts in all wise to really gain that profit goal.
Marketing as a key factor is something which needs special consideration and full attention.
Investing on marketing tools is actually a great way to quickly climb up the mountain of success.
That's it for now guys, ensure to read other articles on dropshipping here:
Also don't forget, we create dropshipping stores here:|